Our "Inside Scoop" series provides you with a behind-the-scenes look at what goes into EJ Victor collections directly from the designers who partner with us.
You've likely heard of Ellen Degeneres, a comedian, TV host, writer, and producer. Her passion for interior design inspired her to launch ED Ellen DeGeneres, a lifestyle brand inspired by iconic style, values, architecture, and fashion.
Crafted by EJ Victor, the ED Collection offers an inclusive vision of style with modern, traditional and rustic design aesthetics. Sustainability is at the core of the collection, with pieces handcrafted using reclaimed wood, performance fabrics (from nearby mills) and natural materials and finishes.
Read on to hear directly from Ellen on embracing and expressing a sense of style and individuality in a home or space.
EJ Victor Collection Questions: ED by Ellen DeGeneres
Could you describe the general style, look, and feel of your collection?
I would love to. I would describe it as rustic modern – cozy but sophisticated. We mix contemporary shapes with soft textures and classic designs.
What inspired you as you designed this collection?
My inspiration always starts at home. I love to combine old and new at my house. A vintage piece with a modern piece. I also like different shapes paired together. You'll see a lot of that in this collection.
What are your favorite pieces in this collection?
Oh, I couldn't possibly pick a favorite. What would the others say? They're all my favorites in different ways.
The Perkins and Lillie sofas would look great in any home. I love the upholstered pieces so much, which is not to say I don't love the un-upholstered pieces. I also love the dining room pieces because everyone needs a good dining room table to make entertaining fun and easy. And I haven't even mentioned the coffee tables, which are great for coffee but also so many other things, like tea.
Photo featuring the Perkins Sofa and additional pieces by ED and EJ Victor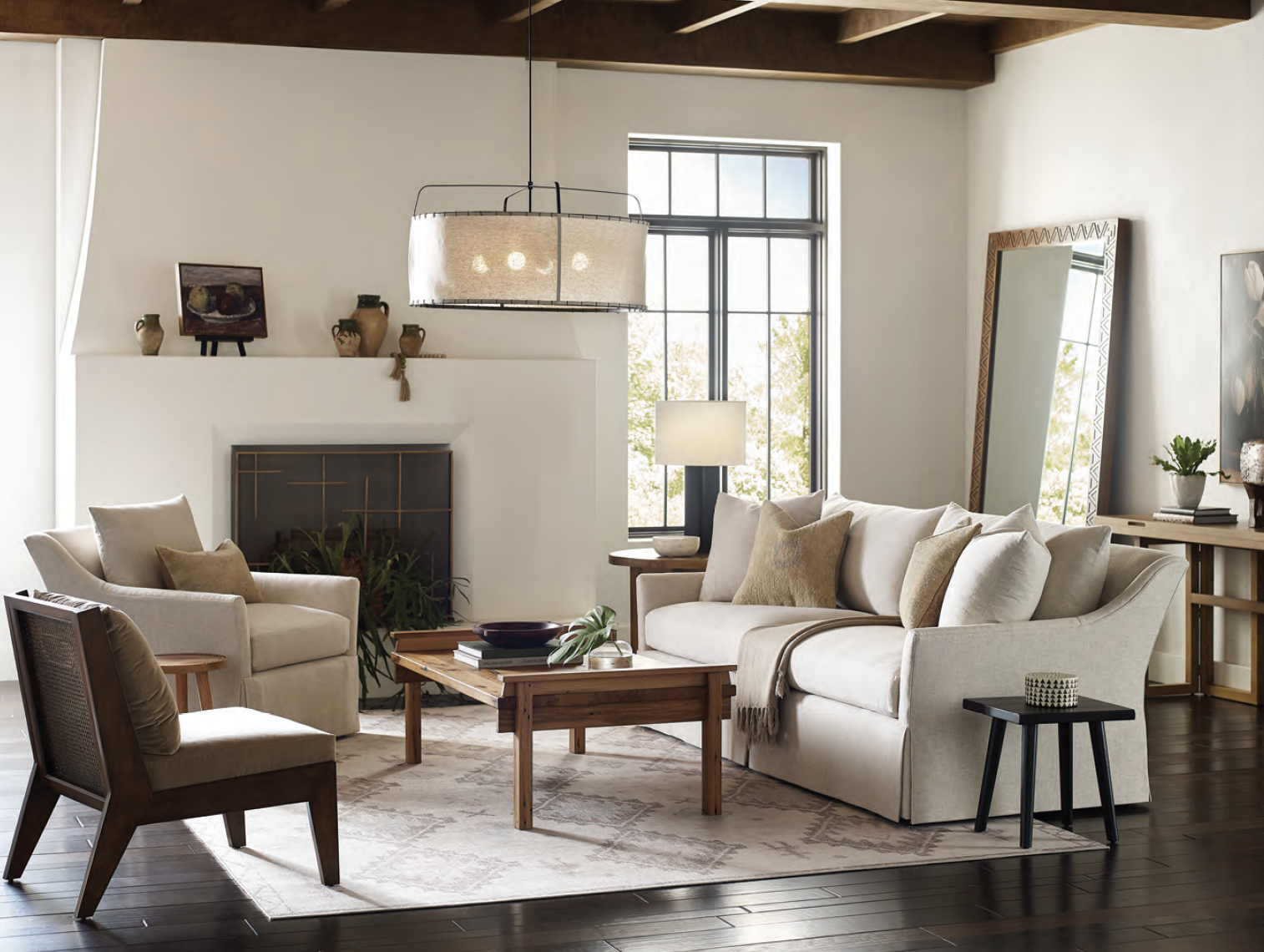 Photo featuring the Lillie Sofa and additional pieces by ED and EJ Victor
Could you call out some unique/standout design elements that are featured in this collection?
I am proud to say that we worked hard to make this collection as environmentally friendly as possible.
With EJ Victor we created an entirely new vegan, hypo-allergenic upholstery material that is comfortable and holds its shape better than anything else I have seen on the market. That means no animals were harmed in the making of my furniture. And we are using reclaimed wood in many of the pieces, which makes them good for the environment and gives them a timeless feel.
Were there any challenges you faced while designing this collection? If so, what were they and how did you overcome them?
There's always the challenge of coming up with something new and interesting that hasn't been done before. I kept pushing the limits on design because I wanted to make sure our customers were getting things they've never seen before.
What's it like to partner with EJ Victor?
It's been fantastic. Every member of the EJ Victor team – not just EJ and Victor – has years of experience in furniture design. They're experts, and they also have incredible manufacturing facilities here in the US, which I am very proud to support.
What projects do you have coming up with EJ Victor that you're really excited about?
I can't give away too much, but we're going to be expanding in really exciting ways. We're going to incorporate stones sourced from the US into the collection, we have an upcoming collaboration with Mark Grattan, and we're going to dive into the bedroom – you know what I mean – a bedroom furniture collection.
"Get to Know You" Questions:
How did you get into design?
I've had a passion for interior design for as long as I can remember. I have always loved arranging and rearranging and then re-rearranging furniture and making a space feel as comfortable as possible.
What inspires you outside of furniture? (Artists, lifestyle trends, etc.)
I'm inspired by everything around me. I love antique shops and art galleries near home, but I also love exploring when we travel. I love finding random pieces wherever we are – sometimes it's art but sometimes it's a bowl or a trinket. Even trinkets inspire me. It's all about what speaks to me.
How do you like to unwind outside of your design work?
Well sometimes I literally unwind by doing yoga. I wind and then I unwind.
I love spending time at home with Portia and our animals. I read, I write, I listen to music, I talk to friends, I talk to myself. All the usual things people do.
4. What do you love about being home, what does home mean to you?
Home is comfort. It's where I can be the most relaxed and the most myself and where I can just take my shoes off and let my hair down. I've been comfortable other places, but not every place likes it when you take your shoes off.
Industry Questions:
What's the biggest trend you're seeing in the industry right now?
There's been a return to traditionalism. People are spending so much more time at home now and they want to create spaces that are beautiful and inviting for themselves and their families.
A lot more wood is being used, which I personally like because I love earth tones, and I love being able to incorporate the phrase "knotty oak" into as many conversations as possible.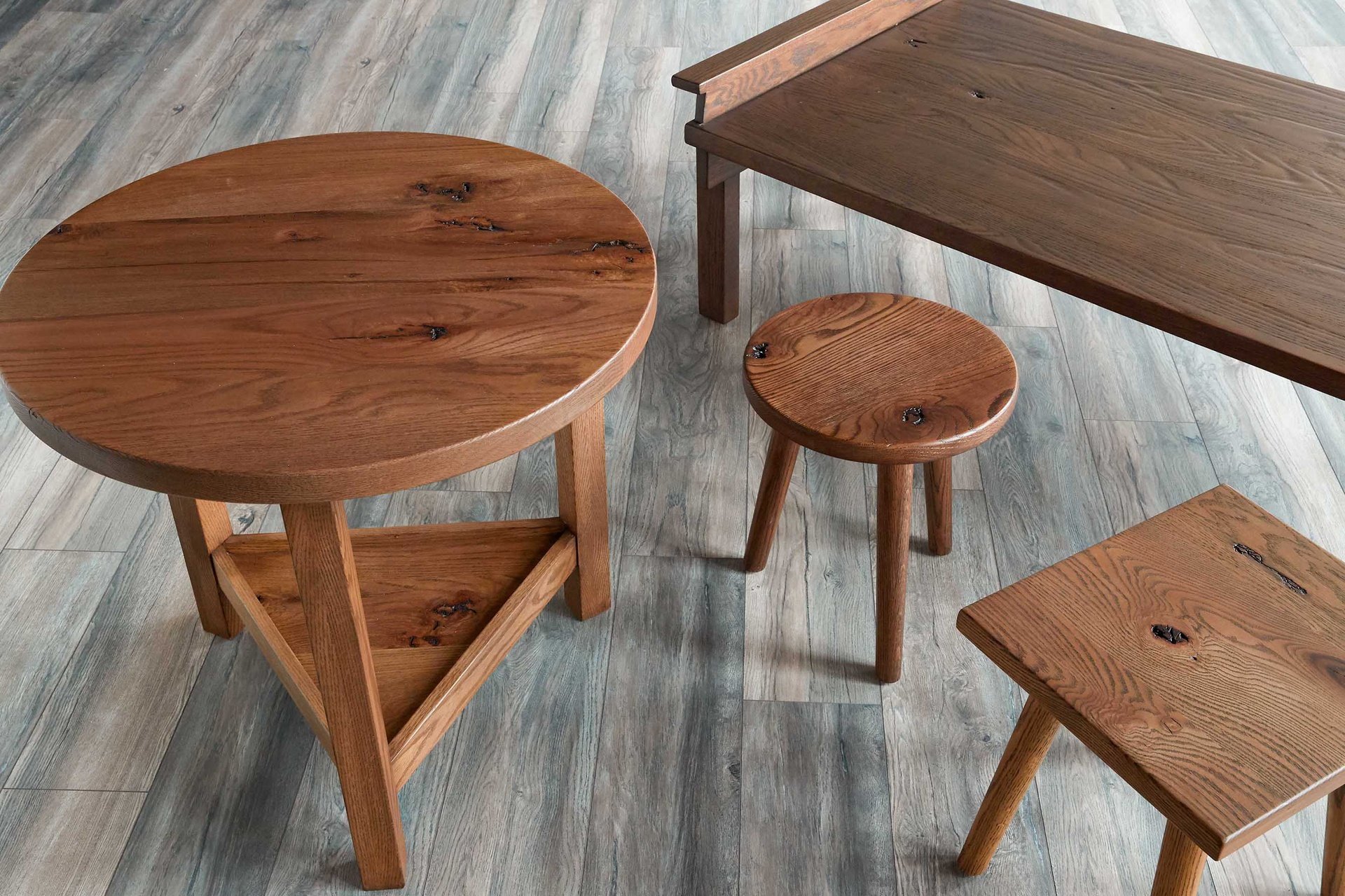 Photo featuring Knotty Oak pieces from the ED Collection with EJ Victor - Finney Drinks Table, Dile Drinks Table, Forge Side Table, and Alston Coffee Table
What's the biggest challenge for designers right now?
Everyone is spending so much time at home now. There is a much bigger demand for design and furniture, and it's not always possible to keep up.
We're trying to focus on the pieces that feel most authentic for the collection so we can create thoughtful, streamlined designs. But we are busy, busy bees working on our knotty oak.
Make It Happen:
Make your next design project pop with ED by Ellen DeGeneres – explore the collection now!