In our "Inside Scoop" series, we provide you with a behind-the-scenes look at what goes into EJ Victor collections directly from the inspired designers who partner with us.
Get to know Antonia Caicedo, an interior architect and designer who weaves international refinement into every piece she creates. Inspired by her time spent in Milan and Paris, the Antonia Collection with EJ Victor is a model of "effortless luxury".
Read on to learn more about the soul behind her collection and the heart behind her work as an interior designer.

Questions about Antonia Collection:
Could you describe the general style, look, and feel of your collection?
The Antonia collection is my interpretation of how Art-Deco meets Mid-Century Modern.

A collection of luxury casegoods, upholstery and lighting characterized by the use of clean geometrical forms, subtle soft and round edges and the juxtaposition of volumes and finish intersections that together make for a beautiful design story.
What inspired you as you designed this collection?
I would say my time in Paris and Milan was very important. Being there allowed me to experience and analyze Art Deco architecture and get acquainted with famous Mid-Century icons, monuments, buildings and amazing works of art.
What are your favorite pieces in this collection?
The Laurent Sideboard is my absolute favorite. It truly conveys the ethos of the collection: "Effortless Luxury". It's softly feminine yet bold with its combination of 5 different finishes that come together in a very effortless way.
Could you call out some unique/standout design elements that are featured in this collection?
The Cannes Sofa is by far our best seller from our upholstery line for a reason. Composed of very clean geometries, it's very art-deco and features what I call the "integrated end table" in any of our exotic finishes, making this sofa functional, comfortable and so chic.
And, above all, the use of the bronze. Humankind has been fascinated by bronze since the Bronze Age, and I share this fascination. It's bold, timeless and ever-changing.
Were there any challenges you faced while designing this collection? If so, what were they and how did you overcome them?
As a designer I think the most challenging/important part is being able to work hand-in-hand with the manufacturing teams to make sure that your vision is portrayed while still being realistic about what is possible and what is not.
Designing a collection means you are no longer designing for just one project/client, you are designing for all projects/clients and all items have to be functional, sellable and versatile to fit everywhere.
What's it like to partner with EJ Victor?
EJ Victor is like family to me. They are great partners that have allowed me to be creative and challenge myself as a designer. We started small with a few case-goods back in 2017, and now we have over 60 unique pieces.
This has been a true partnership with EJ Victor. Together, we have grown organically creating an extensive collection that features timeless luxury casegoods, exquisite upholstery and a lighting collection that I am so excited to tell you about…soon!
The Antonia Collection would simply not be the success it is without my family at EJ Victor, pure and simple.
What projects do you have coming up with EJ Victor that you're really excited about?
I believe constant innovation is what keep this industry alive! Together with Jimeco and EJ Victor, we make sure that every High Point Market we bring new designs, finishes and surprises to make our clients excited and eager to see what the Antonia Collection will bring next.
Right now, our focus is to reach more showrooms in more places across America, where the collection is displayed and sold. It's a very exciting time, to see this rapid expansion, as well as a humbling experience when people are delighted and so complimentary of my designs.
Putting yourself out there for the world to see (…and criticize), and have such wonderful reception is a 'soul-shaping' experience.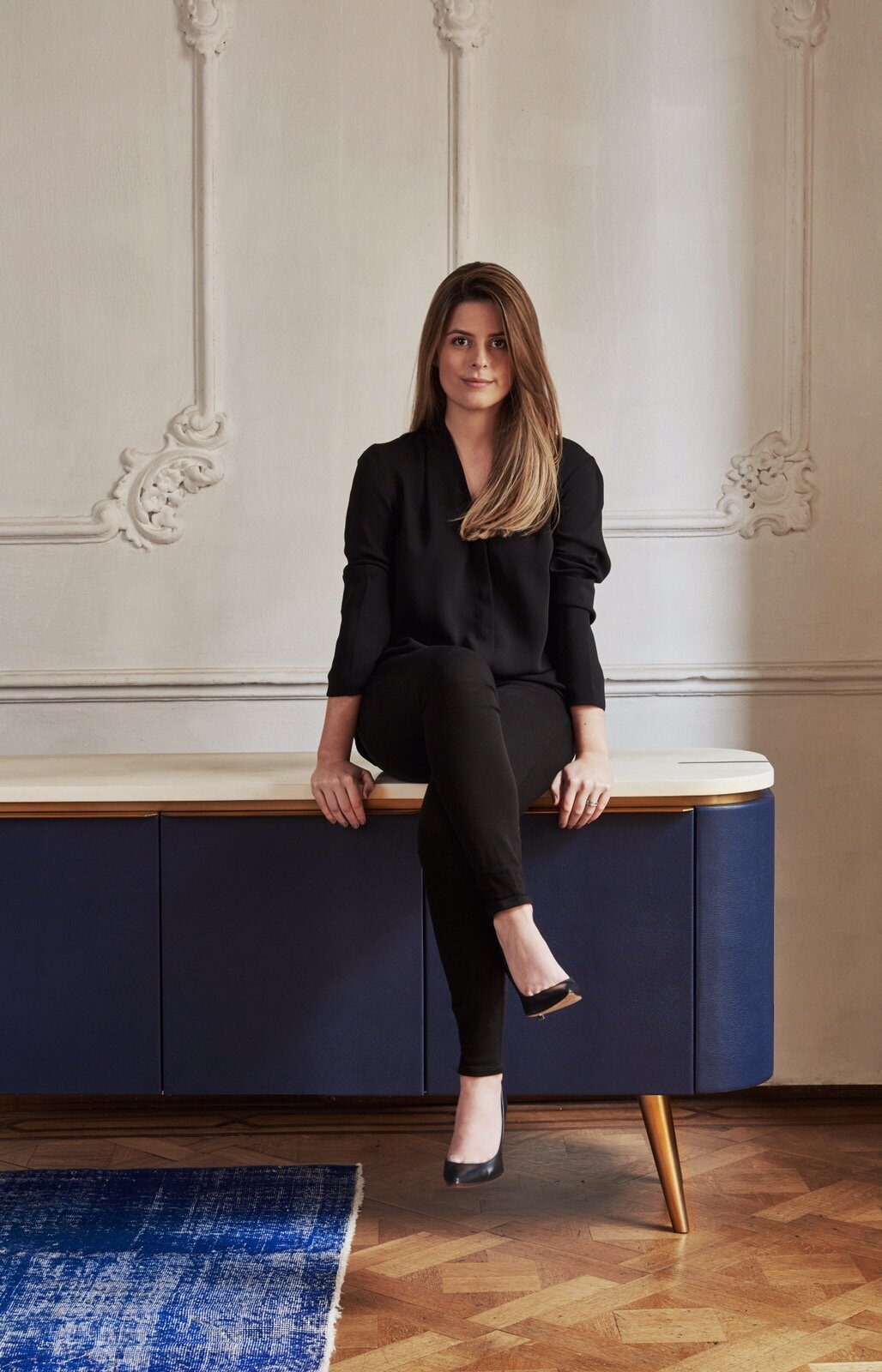 "

Get to Know You" Questions:
How did you get into design?
I have always had a passion for interior design since I was very young. I've been able to travel and live in Europe since I was very little, and this opened my mind to a world full of history, variety and glamour. I was privileged to be able to follow my dream and work and educate myself on two continents allowing me to develop my passion for timeless design and shape my aesthetics further.
What inspires you outside of furniture? (Artists, lifestyle trends, etc.)
Timelessness inspires me. Good design will transcend time, trends and lifestyles. Being an interior architect myself also pushes me to look beyond and explore other domains. I love architecture and how it is so influenced by context while still evolving over time without losing its essence.
My all-time favorite masters are Van Der Rohe, Jean Michel Frank, Aldo Tura among many others.
When you're traveling the world, what places do you draw inspiration from?
Architecture, nature, art. There is inspiration everywhere. However, there are no places that are as 'all encompassing' in their style, glamour and architecture as Paris and Milan.
How do you like to unwind outside of your design work?
I enjoy the simple things, the company of my family and friends. I also love cooking! But, my work takes me to so many unique and fascinating places all the time, that I would not call it work, and I enjoy the hustle!
Explore the effortless luxury of the Antonia Collection – sure to inspire mid-century modern pieces for your next design project.