Our "Inside Scoop" series provides you with a behind-the-scenes look at what goes into EJ Victor collections directly from the designers who partner with us.
In this segment, you'll get to know Allison Paladino, a designer known for her exquisite residential and commercial interiors. Her collections are reminiscent of the French Art Deco period with a natural, elegant touch that is uniquely her own. Described by Paladino herself, her latest collection is: "modern yet classical, and sometimes organic."
Read on to hear directly from Allison about what inspires her and why her long partnership with EJ Victor has been so invaluable during this season in the design industry.
EJ Victor Collection Questions: Allison Paladino
Could you describe the general style, look, and feel of your collection?
The general style, look, and feel of my collection is classicism with a modern twist and sometimes organic.  
2. What inspired you as you designed this collection?
Since the inception of my collection with EJV, it has been influenced by the French Art Deco period. I love the twist of modern yet classical elements. I'm also influenced by the organic forms of George Nakashima. I think you can see both influences in my new collection launching this spring!
3. What are your favorite pieces in this collection?
I am really excited about the Randee sectional, sofa, and chair! We've carefully taken the fantastic sitting dimensions from my Sir Martin collection, which I'm proud to say is one of EJV's best-selling pieces. I'd like to say rest in peace to my friend Martin Trowbridge of Trowbridge Art for whom I named the "Sir Martin." I met him years ago with just a small collection of art! Building long-term relationships is one of my favorite things about the High Point Market. I'll miss him and his hilarious sense of humor! 
4. Could you call out some unique/standout design elements that are featured in this collection?
The Randee upholstery has wonderful curves outlined with a self-welt and the sectional is mitered like the Sir Martin sectional. This allows for a continuous fabulous step detail in the back which makes it a wonderful piece to float! I also love how the Danny tables, mirror images left and right, are so versatile for a seating area or as nightstands. They offer a more organic shape dressed in a vanilla lacquer and walnut combination.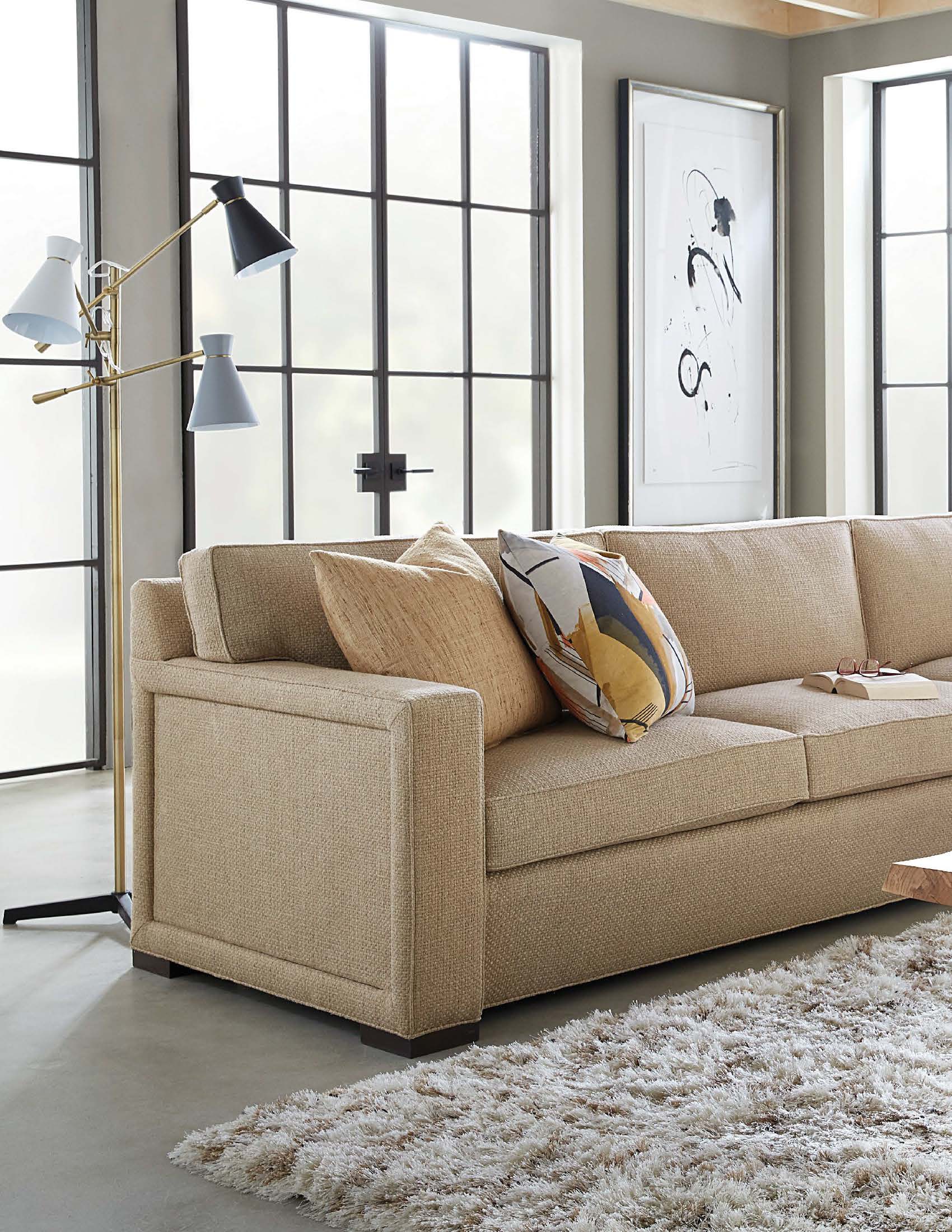 Photo featuring the Sir Martin Sectional by Allison Paladino and EJ Victor.
5. Were there any challenges you faced while designing this collection? If so, what were they and how did you overcome them?
Probably the biggest challenge was to get a clean edge between the vanilla lacquer and walnut on the Danny and Haley pieces. I love the crisp contrast! EJV just does it right.
6. What's it like to partner with EJ Victor?
Working with so many great people at EJ Victor for the last 16 years has been great! It is like working with family. After a multiple year sabbatical, I'm so happy to be working with everybody again! 
7. What projects do you have coming up with EJ Victor that you're really excited about?
EJ Victor has been an absolute life saver with great deliveries during Covid, and they continue to deliver quickly! We have 9 projects currently on the roster which will indeed have many EJ Victor pieces.
'Get to Know You' Questions:
How did you get into design?
I got into design kicking and screaming!! Ha! Ha! All kidding aside, my mother was a designer, so I grew up around it. No surprise being the rebel that I am, I wanted to do anything but design. I finally came to my senses in my second year of college and earned a BA in Interior Design. I admit it! After 34 years practicing design, it is in my blood, and I cannot imagine doing anything different. 
2. What inspires you outside of furniture? (Artists, lifestyle trends, etc.)
Travel is my biggest inspiration. I see ideas everywhere – from gardens to flea markets to museums! 
Italy and France are probably my largest influence and no matter how many times I've been, it is always so exciting! I'm excited to travel to Sicily and the island Panarea this fall for the first time! 
3. How do you like to unwind outside of your design work?
I am a water bug. Nothing speaks to me more than the sea. We bought a fabulous Oyster sailboat 6 years ago in Ipswich, England and crossed the Atlantic to bring it home to Florida! We spent a lot of time in Spain and Portugal before hopping over to the Caribbean and BVI's, as well as many of the Bahamian Islands, from the bottom Great Isaac Cay up to Walker's Cay. I am absolutely crazy about fishing, and we did plenty of that, catching marlin, mahi, tuna, snapper and wahoo!
Industry Questions:
What's the biggest challenge for designers right now?
Hands down the biggest challenge is vendor deliveries! We try to educate our clients that some things are worth waiting for. Many times, they don't want to hear it and that is why EJ Victor has been an absolute life saver for us! Being able to customize pieces for clients and still deliver on time has been a game changer!
Explore the Allison Paladino collection now and get a glimpse of her newest pieces debuting Spring 2023 at the High Point Furniture Market.