To create a space, you must decide what the mood, feel, and appearance should be.
When it comes to furniture, a designer can utilize pieces in classic forms and pair them with unique details to create niche aesthetics. "Midtown Memphis Modern" for example, is a regional and exclusive vibe created with both modern and boldly-styled traditional elements.
Let's take a peek into the various furniture design elements and styles to help you discover what fits your fancy.
Traditional / Formal Design

Timeless, elegant and formal, the traditional style is a long-standing type of furniture design that takes us back to historical architecture.
Elements of Traditional Furniture:
Ornate details

Soft edges

Warm/rich tones

Lustrous accents

Patterned upholstery

Plush fabrics




Typically, traditional furniture is characterized by symmetrical lines in the surrounding space, and it often mimics European styles from the Victorian era with dark woods, intricate details, and spaces fit for royalty.


Traditional Design Examples: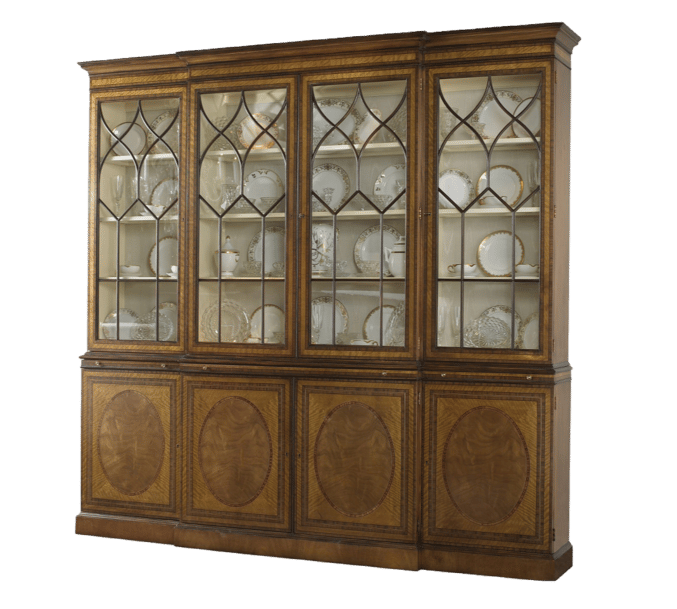 This piece features a delicate antique key detail, ornate hand detailing, and lustrous accents in the delicately paneled breakfront. It is a hallmark of classic design and is found in most formal dining rooms within a home. Often used to store heirloom or treasured goods, the cabinet is a tradition in itself. Stylish enough in a modern Chalkstone Finish, but with the grandeur you expect from a keystone piece. This classic piece could be appointed in a bright chalkstone to add light and poise rather than austerity.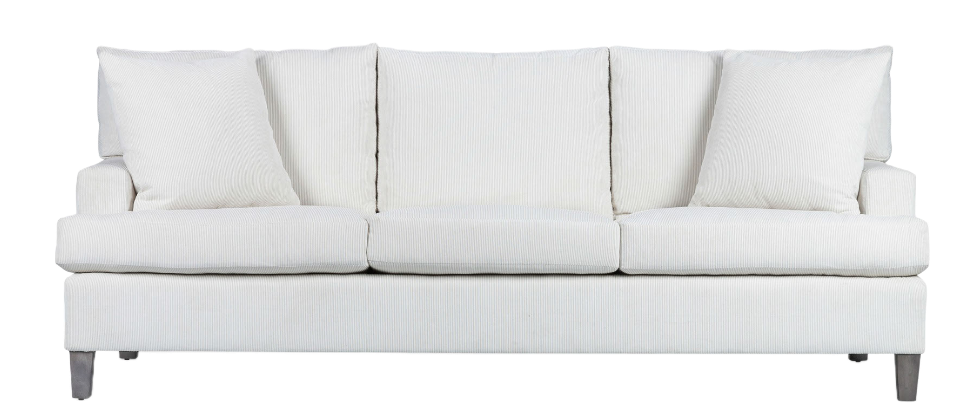 With maple legs and plush clean fabric, this piece is a solid foundation for the seating to build a traditional space. It can be paired with a traditional oriental style rug and plush throw pillows along with other formal details to carry the traditional style throughout the room.
Transitional Design

Imagine combining traditional poise with modern touches to create transitional spaces that feel welcoming and warm.


Elements of Transitional Furniture:
Clean lines

Symmetry + balance

Textural elements (wood, glass, rattan, fabric, steel, and metal)

Complementary textures

Neutral colors

Tone-on-tone palettes




The best way to style a transitional living room is to think crowd pleasing. With both comfort and polish, it can be seen as an in-between option that includes calming neutrals, lots of cushions, and maximalist or intricate fabrics on traditional frames.


Transitional Design Examples: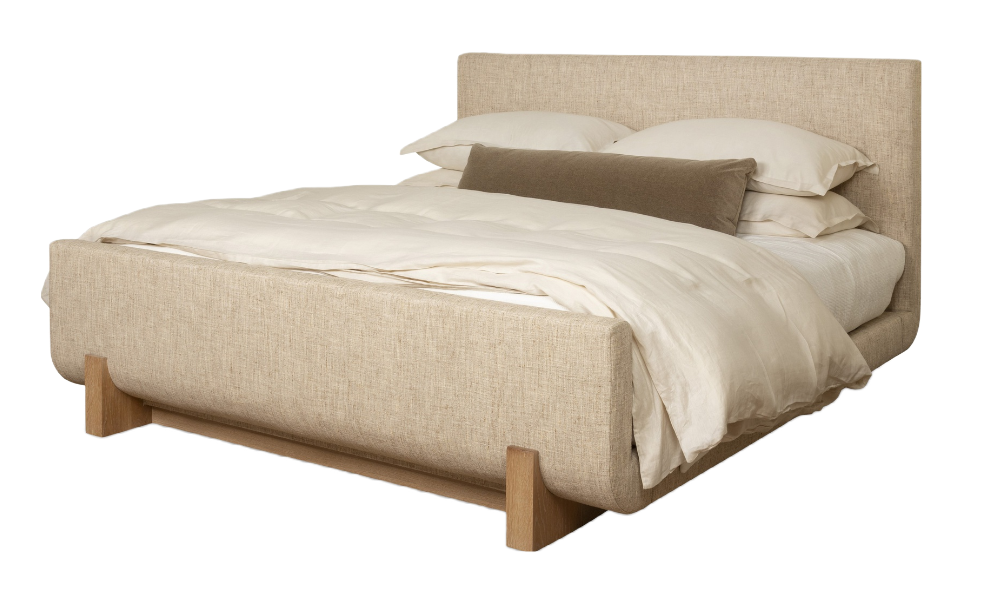 This bed combines transitional form with a trace of throwback. With wooden details and a rounded headboard, designer Alfredo Paredes showcases an industrial but classic style that is both timeless and fresh.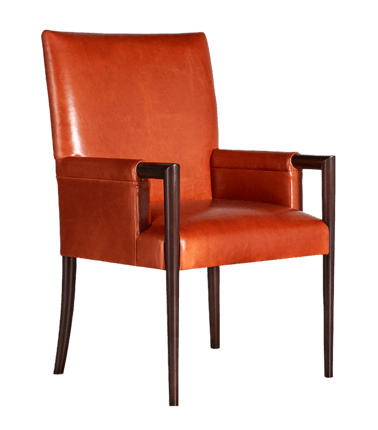 An office is the perfect transitional playground as so many of us are using spaces in new ways for remote workspaces. This desk, dining, or dressing chair has an astute shape with a channeled appearance for a perfectly polished space.


Modern / Contemporary Design
The key to modern design is to keep it sleek and minimal with clean lines and geometric shapes with neutral and monochrome palettes. While modern and contemporary styles are similar, contemporary is always changing because it will reflect the most recent design changes in the industry.
Elements of Modern Furniture:
Clean, straight lines + edges

Geometric shapes + angles

Clearer looks with minimal ornaments

Combinations of wood + metal

Smooth surfaces

Warm neutral colors accented by vivid hues

Minimalist elements highlight grays, beiges, and shades of white
A modern foyer is often a way to set the mood for an entire space while still maintaining flow. You welcome guests with bold elements while pulling in matte metallic, raw mineral and stone elements that are eye-catching and polished. Curved seating and tables catch the eye with smooth, shiny and geometric fabrics often in metallic shades. Light may be the element of modern in an otherwise traditional landscape for a room that looks familiar and decadent depending on the light chosen.
Modern Design Examples: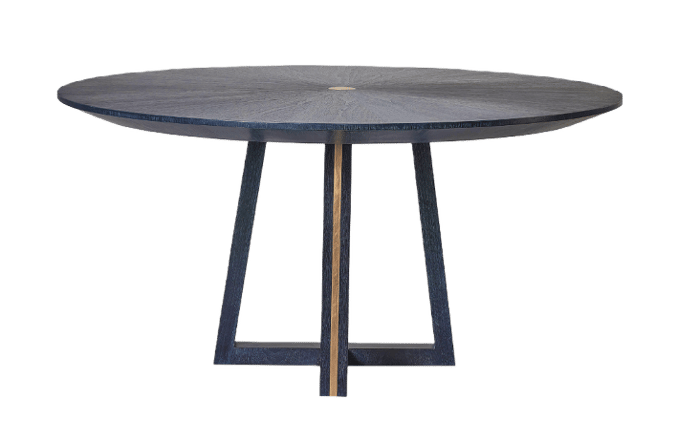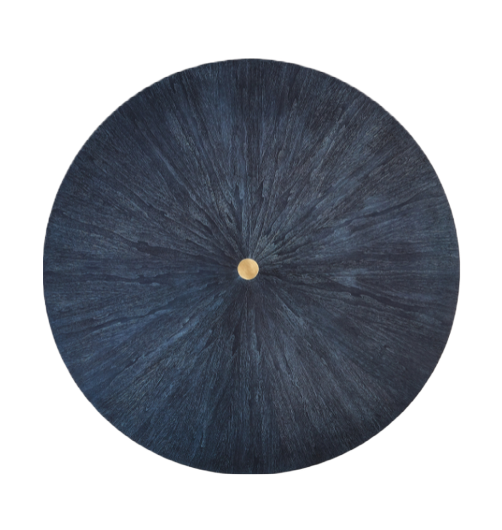 Featuring a luxe combination of wood and metal including blue walnut and bronze elements, this table was developed to be a fresh take on a timeless neutral. Blue, even though a color, can be used as a neutral because it blends effortlessly whilst making a statement. In the designer's words, "Our Blue Walnut in particular was carefully created to look true blue when you dive in but still giving some hints of grey and white when looked from afar." – Antonia Caicedo

A rounded sofa made for warm neutrals and vivid hues is a staple of the Ellen Collection. The colors and patterns tell the mood while the smooth curve blends the space into focus. With its oak solids and minimal yet welcoming design, it is an ideal centerpiece of a modern living space.
Choosing Your Furniture Design Style
When it comes to styling your spaces, the possibilities are endless. You should create spaces that make you feel a sense of comfort and belonging, while simultaneously reflecting your personal style.
Recently, design trends have shown an intense longing for traditional styles that combine cutting-edge elements so that you can easily update pieces as trends evolve. If you're looking for a farmhouse style with traditional design, that's possible. In that same sense, Modern Vintage and Modern Penthouse can both be achieved with similar products in varied finishes.
The possibilities are not limited by a single design facet. Start with a few staple pieces that make your space YOU, and then add variation through patterns, casegoods, and other items that can take a space from traditional to transitional to modern with ease.
Explore your design style through our Inside Scoop series to hear directly from furniture designers about their design inspiration and styles.