There are lots of perks to working in the furniture industry. One in particular is that we get the chance to spot industry trends as they're emerging – before they become mainstream. These nascent trends serve as inspiration and help shape the look and feel of our furniture.
Curious which furniture design trends we think will reign supreme this year? Then you're in the right place.
Read on for our forecast of the 2022 furniture design trends.
1. Multifunctional Spaces
Trends often depend on the year and the context of what has happened around us, which creators and designers may mirror in their work. A home is a place where you should feel a sense of comfort, and now more than ever – it's where you live, play, and work.
Multifunctional spaces blend a variety of areas into one that can be used for an array of activities. Whether you have an open floor plan or a small studio, you need the flexibility to make your spaces function exactly as you need throughout each day.
Make it happen: look for pieces that can be used with multiple functions, like ottomans that can be used for seating or coffee tables that have storage capacity.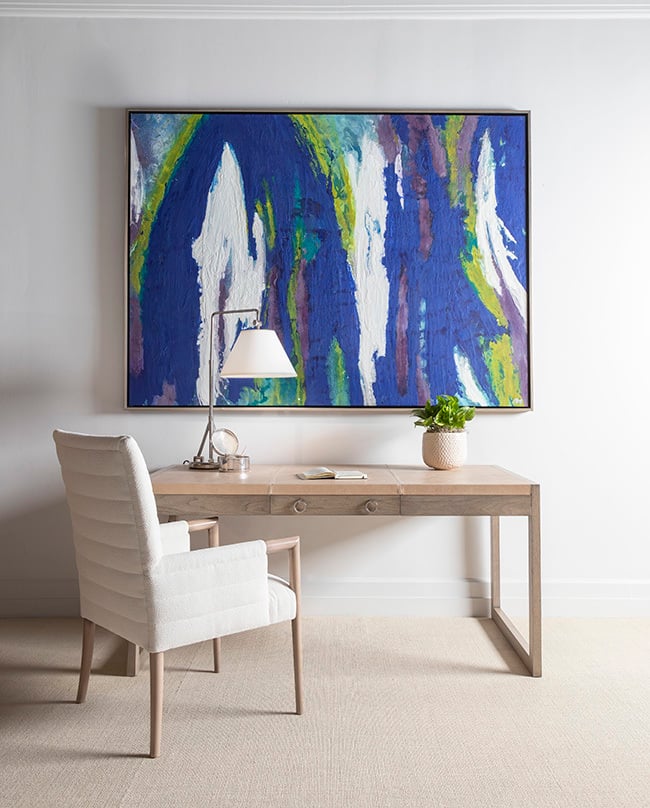 The Hunter's Chase collection has a foundation in tradition and an eye toward the future. With a luxurious feel featuring excellent functionality, you can discover multifunctionality without sacrificing beautiful details.
2. Sustainability and Organic Materials
Sustainability in furniture design is a top trend because it benefits all of us and the world that surrounds us. The term 'sustainability' means different things to different companies, so when you come across furniture marketed as sustainable, be sure to do your research in order to understand what makes it sustainable.
Make it happen: make your space more sustainable by using recycled or upcycled materials, choosing pieces with long-term usefulness, selecting organic materials that do not harm the environment, and purchasing from manufacturers with US-based operations to lower emissions from shipping.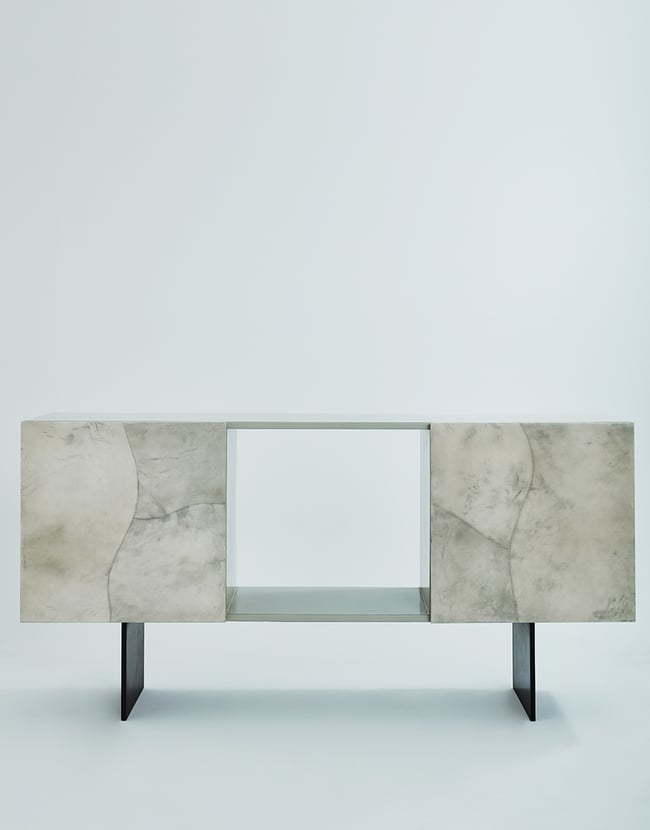 Our Antonia collection features exquisite design, and some of the products have won awards from the Sustainable Furnishings Council for their organic, sustainable features.
3. Studio-Sized Designs
Our next trend is all about maximizing your space without minimizing great design.
When it comes to studio-sized designs, small spaces require minimalism and creativity, so just remember that less is more.
Make it happen: zoom in on the details to ensure that your design choices reflect you, even if you don't have a large space. Don't be afraid to throw in a fun pattern or a splash of color as these are simple ways to make seasonal changes without the need to replace large pieces.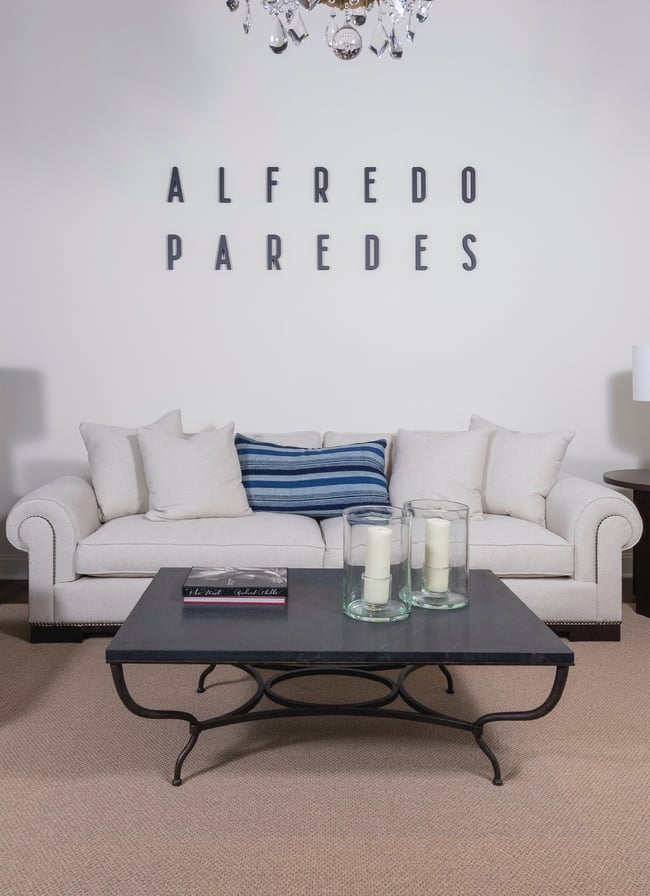 Our Alfredo Paredes collection evokes a cultured bohemian spirit to spruce up small spaces with unique details that make an impact and pieces designed with studio spaces in mind. The studio-sized Ina Sofa is a great example. Inspired by the full-sized Ina Sofa, this version is made in two pieces so that it can fit snugly into your design with comfort and ease.
4. Shades of Blue in Casegoods
In 2022, casegoods are taking a soothing turn by featuring shades of blue.
This is no surprise, since blue evokes feelings of serenity, calmness, and tranquility – which is what we want to feel within our spaces, right?
Make it happen: choose neutral blues that will blend effortlessly while providing a delightful pop of color. However, don't be afraid to go bold for a statement piece that's sure to be a conversation starter.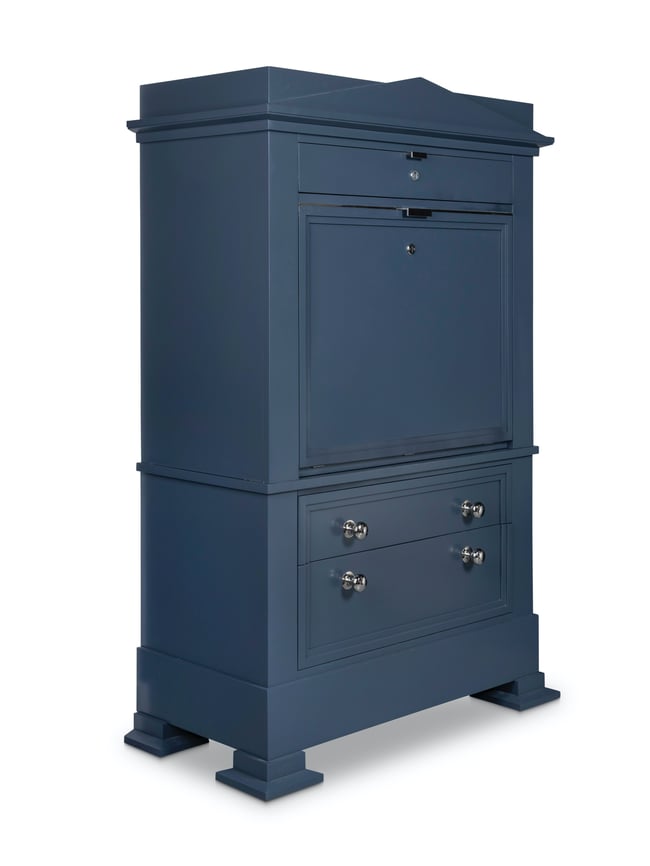 Our Browne & Moore collection features beautifully crafted casegoods with new hues that will draw the eye in any space. The Abbey Secretary is a perfect example. It provides multifunctional design paired with a deep blue tone.
5. Upholstery with Curves
Swap boxy shapes for captivating curves in the coming year to evoke playfulness in your spaces.
Curved upholstery feels welcoming and stirs up emotions that reflect our desire for comfort and happiness.
Make it happen: pair curved upholstery with geometric shapes or sleek lines in casegoods that will complement the space and allow you to show off your curves while maintaining balanced design.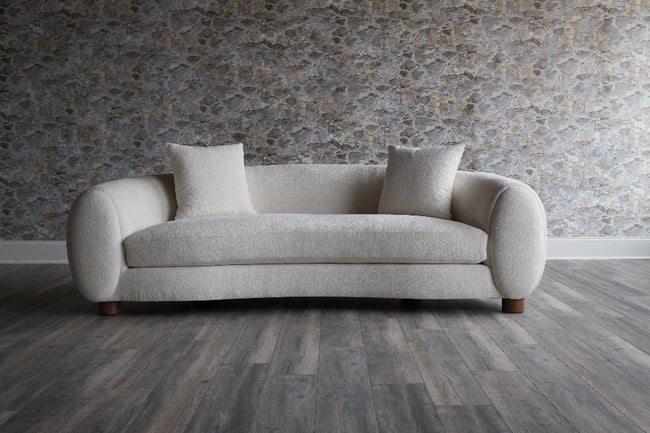 The ED by Ellen DeGeneres collection encompasses the perfect blend of unique design, natural sustainability, and soft curves. With the Perkins Sofa as a centerpiece, you can select angled elements to create a balanced space.
Remember:
Trends may come and go, but timeless pieces that are sustainable, beautiful, and crafted with care will outlast the latest fad.
Want to learn more about our collections for any space? Check out our resources to learn more.